Podcast: Play in new window | Download
Subscribe: RSS
Little Lord Fauntleroy, a charming story about the nicest kid ever, seems an unlikely subject for a landmark lawsuit. But Frances Hodgson Burnett's tenacious defense of her rights to her own work forever changed copyright law in Britain, making things better for writers to this day.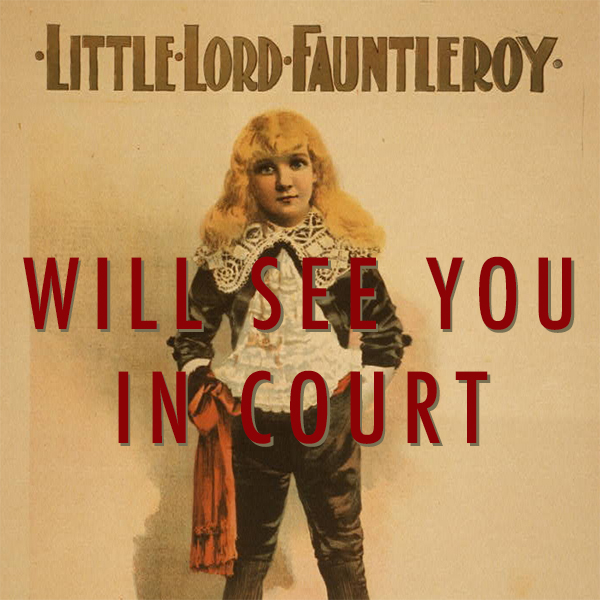 Episodes of this show are usually about children's stories themselves, but I thought it would be fun to share the history of what happened when theater producer E.V. Seebohm decided to rip off Little Lord Fauntleroy and put it on the stage in London, even though he had nothing to do with the book's creation and its author directly refused her permission. At this point in history, authors had no way to stop unauthorized stage adaptations of their stories. Learn about Burnett's tenacious defense of her rights and the creative legal strategy that helped win her case.
Activity: What is plagiarism?
Plagiarism means to copy someone else's work and present it as your own. It's a terrible idea, because when — not if — someone gets caught plagiarizing, irreparable harm can be done to their grades, reputation, and ability to find a job. It can also, as in the case of E.V. Seebohm's plagiarized stage production of Little Lord Fauntleroy, result in trouble with the law.
Give children a short passage from Little Lord Fauntleroy to read, then help them to do the following:
Directly quote a sentence from the text, using correct punctuation and indicating the chapter number, title of the book, and the author.
Paraphrase a few lines from the text without exactly duplicating too many of the words, also indicating the chapter number, title of the book, and the author.
Plagiarize a sentence from Little Lord Fauntleroy by copying it partly or entirely into a sentence the student has written as the beginning of a new story.
Discuss the differences between direct quotation, paraphrase, and plagiarism with students, and tell them it is always best to ask for help if they aren't sure if they have quoted or paraphrased a text correctly.
Sources Used in Research for This Episode
Nierman, Judith. (2010). Piracy Inspires "Real" Stage Version
of Children's Classic. Copyright Notices, March 2010, p. 16. https://www.copyright.gov/history/lore/pdfs/201003%20CLore_March2010.pdf
Rogers, Edward S. (1902). The Law of Dramatic Copyright. Michigan Law Review, 1(2), pp. 102-120. https://www.jstor.org/stable/pdf/1272297.pdf