Podcast: Play in new window | Download
Subscribe: RSS
Special guests Tom the Tale Teller Phillips and his daughter Emmy join in to read the funniest reader submissions sent in to the Spring Writing Challenge. Tom was featured as the show's Leicestershire Children's Writer for the month of March.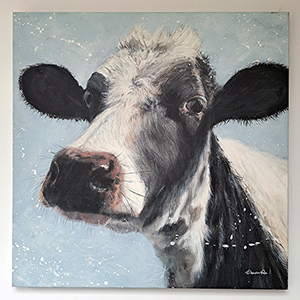 During my interview with Tom the Tale Teller over Zoom, I couldn't help but admire the excellent painting of a cow hanging on the wall behind him. I asked what the cow's story was, and it didn't have one, so Tom and I decided that needed to change. I asked for silly stories, and boy did you listeners deliver! In this episode you will hear a lullaby, a haiku, the best poem ever written about cow flatulence, a short story, and a surprisingly touching story about a cow who finds out she is wonderful just as she is.
Featured in this episode are the following delightful works:
"Lydia the Dancing Cow" by Tillie, read by Emmy Phillips
"Moo Haiku" by Edie, read by Chloë Townsend
"Bovine Lullaby" by Chris, sung by T.Q. Townsend
"Cow Power" by B.C. Byron, read by T.Q. Townsend
"Lisa the Cow and Her Missing Spots" by Olivia Lee, read by Tom the Tale Teller Phillips
Many thanks to all of you who contributed. Children's literature is not just something that belongs to the past, and it would seem that the current generation of writers is a healthy one!