Podcast: Play in new window | Download
Subscribe: RSS
Sense and Sensibility is the one best suited for teenagers out of all of Jane Austen's works, and after more than 200 years it still has a lot to say to older teens looking for good advice on how to finish growing up. While of course many things have changed when it comes to the economic independence, dating preferences, and age of marriage for young people, Sense and Sensibility can still give good advice by contrasting the overly romantic approach of Marianne Dashwood to the more pragmatic approach of her older sister Elinor.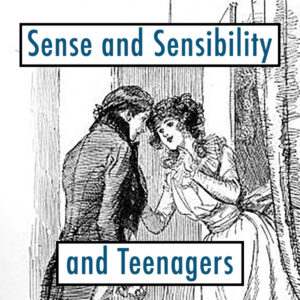 Activity: How do You Spot a Bad Partner?
While reading Sense and Sensibility with teenagers, engage in discussions about how Colonel Brandon, Edward Ferrars, and John Willoughby all reveal themselves to be good or bad romantic partners. After reading the novel, have students either write an essay, give a presentation, or engage in a discussion about how young people should balance romantic and pragmatic concerns when looking for someone to date or even marry.