Podcast: Play in new window | Download
Subscribe: RSS
Two swans are nesting in the pond behind my house, and it's created a wonderful chance for myself and co-host Chloë to see that E.B. White was very accurate in his description of swan behavior in The Trumpet of the Swan. As we are in England they are Mute Swans, not Trumpeters, but their behavior is very similar. Chloë has learned some lessons from the character of Sam Beaver about how to respectfully observe wildlife, and today she shares her findings.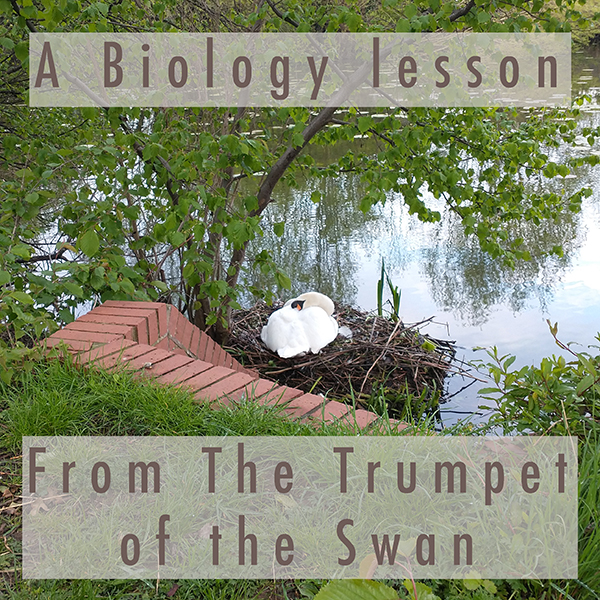 Our swans have behaved in a remarkably similar way to the fictional ones in The Trumpet of the Swan. They return to the same spot each year. They make their nest on a little peninsula that juts out from the side of the pond where the shore is quite steep. It would be hard for anything to approach them from the land, and their position on the shore gives them a full view of anything in the water. The cob is amazingly protective, even suspicious, when it comes to his wife and her nest. And yet, they seem to trust quiet, respectful observers who keep a safe distance and don't do anything to upset them.
Activity: Observe a Nest
What birds nest in your area during the spring? Do some research about one or more species so that you can find a nest. Where are the nests usually found? What do the nests look like? What materials are they made of? What color are the eggs and how many are there usually? How long does it take for the eggs to hatch?
Before you go out on your nest hunt, read the first three chapters of The Trumpet of the Swan. Write down or discuss how Sam Beaver behaves around wildlife. How is he a good example of someone who enjoys observing wild animals in a way that is responsible? What are some adjectives that describe his behavior? What rewards does he get because he chooses to behave in this way?
Go out and search for a birds' nest. Keep a safe distance so that you do not disturb the animals, using binoculars if necessary. If possible, go back to check on the nest regularly until the baby birds hatch. Record your observations and questions in a journal as Sam Beaver did.