Podcast: Play in new window | Download
Subscribe: RSS
As an American, I had always assumed that the character of the robin in The Secret Garden by Frances Hodgson Burnett was exaggerated to make it more intelligent and human-like than in real life. But now that I have my own "bit of Earth" in an English garden, I can see just how wrong I was! The Secret Garden is actually incredibly accurate in its description of the behaviors and biology of the British robin, and as you and your kids read this story you can get the most pleasant science lesson you've ever had.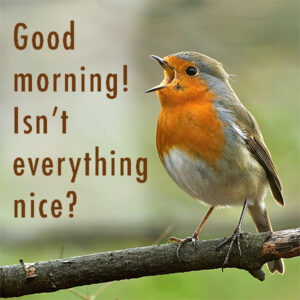 Activity: Learn About British Robins
Children can write down what they learn about British robins as they read The Secret Garden. The character of the robin in the book displays behaviors normal to the species, and more information can be found online. Here are some reliable websites to help get you started:
British Trust for Ornithology
Royal Society for the Protection of Birds
Natural History Museum
BBC Wildlife Magazine
Print this worksheet and fill it out as you read The Secret Garden. Use clues from the novel as well as reliable scientific websites to learn more about the biology and behavior of the British robin.