Podcast: Play in new window | Download
Subscribe: RSS
"Casey at the Bat" by Ernest Thayer is the most beloved poem in American Literature. It's mock-heroic epic about . . . a baseball game. It's very funny and makes a great selection for children to recite. It's also a great way to introduce students to common poetic devices as well as themes from classic literature that are often referenced by modern writers.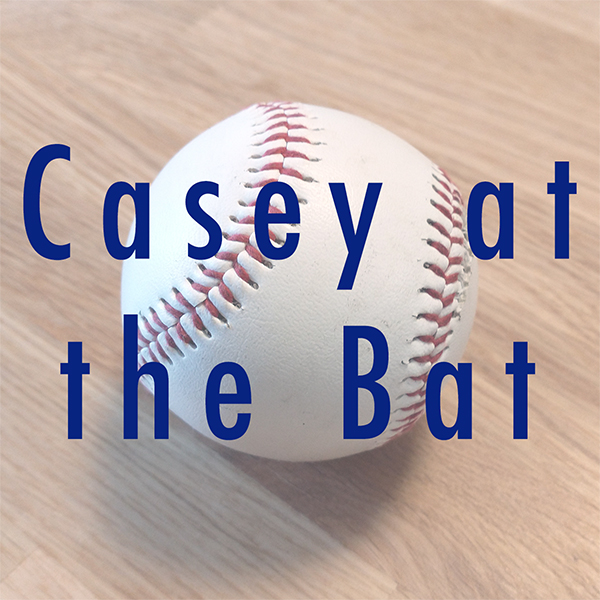 Activity: Poetic Device Hunt
Give students a printed copy of "Casey at the Bat." Have students circle and label examples of the following poetic devices in the poem:
Hyperbole
Alliteration
Enjambment
Personification
Metaphor
Simile
Caesura
Additionally, students can research the references in this poem to great works of myth and literature, such as the source of the phrase "hope springs eternal" and the story of Echo from Greek mythology. Students can also research the poetic meter used in this poem (iambic heptameter, also called a "fourteener"), which was commonly used in Renaissance-era poetry.
Activity: Write Your Own Epic Sports Poem
Ask students to write a poem in the style of "Casey at the Bat" based on their own favorite sports moments. Poems should describe a heartbreaking moment in sports and make use of language that is pretentious, florid, and overly grandiose. Students can then contrast this language with fairly common everyday language. If possible, poems should reference people or events from mythology or come from famous poems or stories about gods, royalty, and legendary people.
Activity: The Rules of Baseball
In a PE or baseball team setting, ask students to explain the scenario described in "Casey at the Bat" using the rules of baseball. Students should explain why Casey is in a critical position, as it is the ninth inning, the team is behind by two points, and two players are on base with two outs already on the board. Students should be able to explain that there are four possible outcomes:
Casey is able to hit a single and get on base, sending Flynn home for a run and leaving Blake on base. The score would then be Mudville 3, Visitors 4. The Mudville Nine would then send its next batter up, and the game would depend on him.
Casey is able to hit a double or triple and get on base, sending Flynn and Blake home. This would leave the score tied 4-4, sending the game into extra innings even if the next player gets out.
Casey hits a home run, batting in Flynn and Blake ahead of him. Mudville wins the game 5-4.
Casey strikes out, and Mudville loses 4-2.
Ask students how they would have batted if they found themselves in Casey's position. With players on second and third, what kind of hit would they attempt? Not getting out is the highest priority, so how would they have tried to manage the situation?