Podcast: Play in new window | Download
Subscribe: RSS
Out of all the larger than life figures in American tall tales, Pecos Bill is the roughest, toughest, meanest, wildest, most untamed, and funniest of them all. Only Pecos Bill has the kind of personality and adventures big enough to have come from Texas.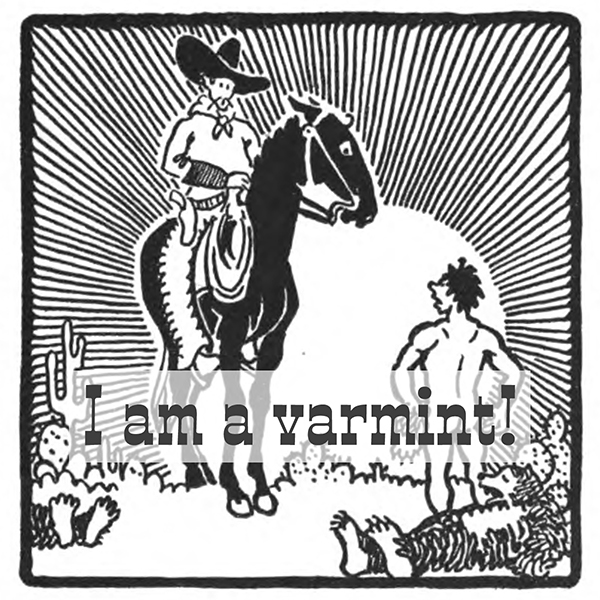 Unlike most tall tales, which arose slowly and were authored by many people, Pecos Bill was probably the creation of one man, Edward "Tex" O'Reilly, whose own life can seem like a tall tale. Born in the last days of the Wild West, Tex traveled the world as a soldier, mercenary, adventurer, and at last, a writer and Hollywood star of the silent film era. His story "The Saga of Pecos Bill" likely did draw on tall tales told in his childhood days in Texas, but it also satirized popular adventure stories of the day such as the books in the Tarzan series by Edgar Rice Burroughs.
Parents and teachers should note that Pecos Bill is by no means a role model. He fights, kills, swindles, robs, drinks, and cheats. However, it's also fairly obvious from the tone of the story that none of this is meant to be taken seriously. These are silly stories about a bad man, so the worse he behaves, the better the story is. However, some tales about Pecos Bill may need to be modified or skipped entirely for younger children as they may take the tales more literatlly.
Activity: Draw one of Pecos Bill's Adventures

After telling a few stories about Pecos Bill, ask students to create a work of art showing one of his adventures. Students may refer to the original drawings by Elmer Hader in The Century Magazine or other works of art for inspiration.
Activity: Peform a Pecos Bill Story
Have students write a script and put on a comedic skit or play showing one or more of Pecos Bill's adventures. The performance should be as silly and funny as possible.
Links
"The Saga of Pecos Bill" as originally published by Edward O'Reilly in The Century Magazine issue 106
Stories of Pecos Bill told by Robin Williams
Depictions of Pecos Bill
Boatright, Mody. Tall Tales from Texas Cow Camps. Dallas: Southwest Press, 1934.
Botkin, B. A. "The Saga of Pecos Bill." In A Treasury of American Folklore. New York: Crown Publishers, Inc., 1944: 180–85.
Chechik, Jeremiah (Director). (1995). Tall Tale: The Unbelievable Adventures of Pecos Bill. Walt Disney Pictures and Caravan Pictures.
Geronimi, Clyde (Director). (1948). Pecos Bill. Walt Disney Pictures.
O'Reilly, Edward. "The Saga of Pecos Bill." The Century Magazine 106 (1923): 827–33.