Podcast: Play in new window | Download
Subscribe: RSS
Little Women is loaded with rich details about food and meals, which helps to build a picture of a real, living world. Recreating recipes from books gives readers the chance to touch, smell, and taste the same things as the characters, making the experience of reading more fun and memorable. In this follow-up episode to my discussion of Amy March getting busted for having pickled limes with her at school, learn how to make your own pickled limes at home as well as find out what went wrong with Meg's currant jam when she tries and catastrophically fails to make some for the first time.
Activity: Make Pickled Limes at Home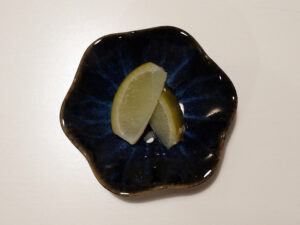 It's easy and fun to make your own pickled limes! They are a tasty low-calorie, low-sugar treat that can be served to kids when you read Chapter 7 of Little Women. To make a very basic recipe, mix a little less than one teaspoon of salt into each cup of water. Wash some limes and slice them into eight wedges. Thoroughly clean some mason jars or another airtight glass container. Put the limes into the jars and completely cover with salt water, leaving very little space at the top. Close up the jar and put it in the refrigerator for two or three weeks. When you eat the limes, remove them from the salt water.
For more information, check out The Joy of Pickling by Linda Ziedrich. You can also look up many other 19th century recipes for pickled limes, with variations that include vinegar, spices, chiles, or sugar.
Activity: Try Foods from a Story
Make reading with children more memorable by looking for opportunities to prepare and eat foods that are part of the plot. This can bring stories to life in a very memorable way and help children try dishes they may have never heard of. Here are just a few examples of memorable moments involving food that you can try at home or, if possible, in class:
Give children a piece of Turkish Delight to eat when the White Witch gives some to Edmund in Chapter Four of The Lion, The Witch, and The Wardrobe
Eat grapes, figs, onions, plums, papayas, guavas, cantaloupes, almonds, potatoes, avocados, asparagus, and peaches to match the title of each chapter of Esperanza Rising
Make and eat some tomato sandwiches together after reading about them in Harriet the Spy
Use food coloring to make green eggs and ham to eat while reading Green Eggs and Ham
Sip raspberry cordial while reading about Anne and Diana's disastrous tea party in Chapter Sixteen of Anne of Green Gables
Eat some marmalade while reading Chapter One of A Bear Called Paddington
Prepare a chocolate bar with a Golden Ticket inside and give it to a child to open as Charlie Bucket finds his Golden Ticket in Chapter Eleven of Willy Wonka and the Chocolate Factory
Make pumpkin pasties, butterbeer, treacle tarts, roast dinners, and any number of other foods to eat while reading the Harry Potter series