Podcast: Play in new window | Download
Subscribe: RSS
"Ye Xian" is a story first published over 1,000 years ago, but it follows the familiar pattern of Cinderella stories from all over the world. People often mistakenly think that Cinderella stories are just about pretty dresses, going to parties, and depending on a man instead of taking care of yourself. But what these stories are really about is social and economic power, featuring wise young women who make the best choices available to them to escape from a bad life into a better one.
This story contains many classic elements of a Cinderella tale — an orphaned young woman mistreated by abusive relatives, magical assistance to help her enter the world of the wealthy and powerful, and finally an escape from her desperate existence due to her own good virtues. There's even a missing shoe!
The story can be understood easily by modern readers, but learning a little about traditional Chinese beliefs and the symbolism of certain colors and animals can help readers have a deeper appreciation for this charming story from long ago.
If your kids want to hear the story of "Ye Xian" on its own, it can be found on the Folk Tales page with other stories from around the world.
Activity: What Can Modern Builders Learn from a Yaodong?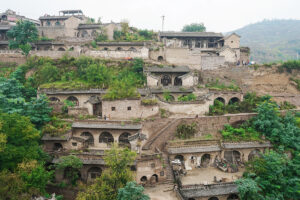 As land grows more expensive, houses become more difficult and costly to build, and building materials have to be shipped ever longer distances,  home ownership becomes unrealistic for more and more people. We ought to consider ways that houses can be made less expensive, create less pollution, and cause less long-term damage to our world. Sometimes it helps to look back in order to know the best path forward.
The setting for "Ye Xian" is in an area where people lived in a type of home called a yaodong. The word directly means "house cave," but these are not natural caves. They are comfortable homes cut from rock using very old and very effective engineering techniques. Students can investigate the ways a traditional Chinese yaodong might help builders create modern homes that are beautiful, comfortable, affordable, and don't damage the environment.
Have students search for images of traditional and modern yaodongs. There are two styles, both usually cut from a kind of terrain called loess. The most common style is cut directly into a natural hillside. Another style involves excavating a square pit, shaping it into a courtyard, and then cutting caves into the walls. Students can research the engineering of both styles of yaodong, comparing the traits and advantages of each style. Students can learn about the following concepts in building:
Insulation – Cave homes keep a steady temperature because rock does not heat up or cool down quickly.
Energy efficiency – Cave homes use less fuel to keep people warm or cool because of the cave's good insulation. This saves money and reduces pollution.
Soundproofing – Cave homes are quiet because sound waves don't travel very well through rock.
Weatherproofing – Cave homes, when built correctly, do not let water or wind into the home.
Sustainable – Because cave homes are carved directly out of rock, very few building materials need to be brought in from other places. The excavated stone can be crushed into gravel for roads or used as building blocks for other structures. This saves money and means less pollution is created by making building materials and transporting them to construction sites. Fewer trees need to be cut down to build a yaodong, since wood might only be used for doors, window frames, or furniture.
The results of research can be shared in a written report, class presentation, video, or art project.