Podcast: Play in new window | Download
Subscribe: RSS
Co-host Chloë and I went up to Woolaton Hall in Nottingham for our first on-location interview with Dr. Adam S. Smith and Jonathan Emmett, authors of The Tyrannosaur's Feathers, a wonderful new picture book about how our understanding of the Tyrannosaurus Rex has changed over the years. This book is playfully illustrated by Stieven van der Poorten, and uses humor and fun to teach about how science works over time to gather new information and refine our understanding of the facts.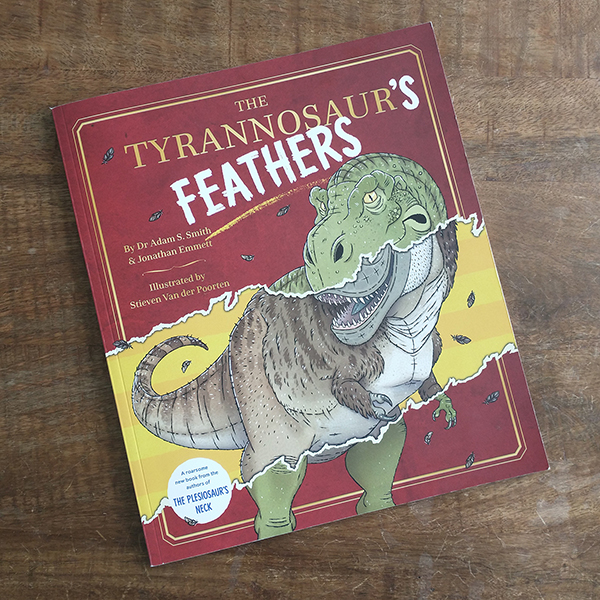 This book gets a wholehearted endorsement from The Children's Literature Podcast. It's a total blast to read, thanks to the wit and humor used as the Tyrannosaur's appearance is corrected by a pedantic but still charming Velociraptor. The pictures and central story are engaging for all ages, and the sidebars are packed with fascinating bits of information aimed at older children and adults. The Tyrannosaur's Feathers is the second collaboration between Jonathan Emmett and Adam Smith. They are also the authors of The Plesiosaur's Neck, another book that is as fun as it is informative.
Chloë and I really enjoyed our conversation with Jonathan and Adam, which was held in the Woolaton Hall Library. We talked about fossils, how media affects popular understanding of scientific facts, and why the Tyrannosaurus Rex is just the coolest. When we were finished, the authors showed an interesting book about plesiosaur fossils from the Woolaton Hall library to Chloë.
Dino lovers everywhere can buy a copy of The Tyrannosaur's Feathers when it hits shelves on August 3!