Podcast: Play in new window | Download
Subscribe: RSS
Hubris is a literary concept that kids should learn about so that they can spot it in Ancient Greek and modern tales. "The Tortoise and the Hare" from Aesop's Fables is a great way to introduce the idea of excessive, selfish pride in a character, and an old Disney cartoon makes the story extra fun.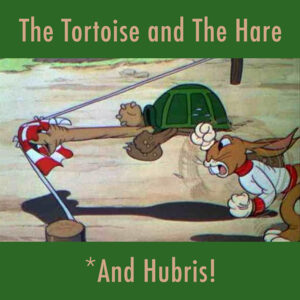 Activity: Learn to Identify Hubris
Ask students to give definitions for the word "pride," encouraging them to differentiate between good and bad kinds of pride. Hubris can be defined as the bad kind of pride – the sort of self-confidence that is selfish, arrogant, and even reckless.
After introducing the idea of hubris, have students watch "The Tortoise and The Hare," a 1935 Disney cartoon based on the Aesop Fable. Afterwards, have students write a reflection or participate in a discussion about the numerous times that Max Hare displays hubris. In contrast, have them identify the ways that Toby Tortoise shows his good character and admirable personality traits.
Activity: Artwork about Aesop
"The Tortoise and The Hare" has been depicted by countless artists over the centuries. Choose several different depictions from different times in history and have students compare them. What techniques were used to produce the image? Which images are serious, and which are comical? Which art styles do the students prefer?
After studying other art styles used to depict events in "The Tortoise and The Hare" have students create their own work of art based on the tale.